. . .
Or you can get with this, yeah, cuz this is where it's at.
Damn, I loved that song, by the
Black Sheep
. It made me bust into moves I didn't even know I had at countless Sweet 16's in the early nineties.
I was such a badass. But I was a badass who was also very good at the Running Man.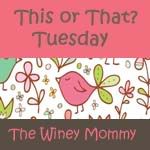 Chelle from the Winey Mommy has started a meme called "This or That." The question is:
Do you buy your makeup at a discount/drugstore or some type of specialty makeup store?
My response? I am 100% schizo when it comes to this and I am ALL over the place. I don't care if I am at a CVS, a Nordstrom, Sephora or heck - the grocery store.

The magnetic pull of sheer pinks and the promise that i could have Jessica Alba's lips if only I could find that RIGHT lipstick makes me buy exactly what they are selling me.

Which is a goddamn load of crap, apparently.

screw that.

I look the same whichever I wear. I am better off just making my own oatmeal scrub at home or something like that.

If you want to play - go on over to Chelle's link.

XOXO,
Kiran